It's never too early (or late) to seek professional help if you or someone you love needs substance use treatment in, North Carolina.
Our admissions process is discreet, confidential and non invasive. It is our mission to provide support to every person that calls us, day or night.
Starting Your Journey to A New Life
The Blanchard Institute's Admissions Team will assist potential clients by gathering information to support the need for treatment and financial resources available.  Potential clients will be asked to complete a brief phone intake, discuss insurance and/or out of pocket cost and schedule an assessment appointment.
Because we are family focused, you and your family will also be able to tour a facility. This will let you see how welcoming and tranquil your environment will be. The Blanchard Institute facility was designed with client care in mind.
The bottom line is that you're not alone. The Blanchard is here for you and your family. We understand what you're going through and can guide you into a more rewarding life. 
Please call us or contact us online today for more information.
Propose a plan and advocate for your client. Work with our admissions experts, discuss our treatment options, and help make a difference.
FOR FAMILIES & LOVED ONES
Addiction is powerful. Sometimes love isn't enough. If you believe that a loved one is struggling with substance use disorder, start here.
Begin a life that is infinitely more fulfilling and exciting. Close the door on substance use disorder and open up a world of possibilities.
Our Admissions Process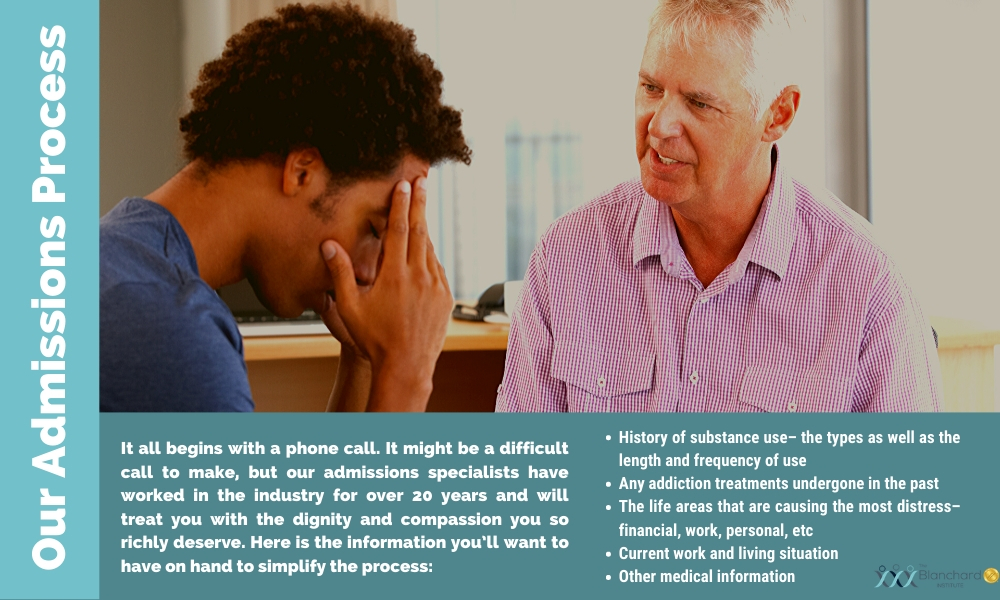 Assessing the Cost of Treatment
We are in network with many insurance providers and work with other insurance companies on an out of network basis. Depending on your plan, treatment costs may be fully covered or minimal based on your insurance. If insurance is not an option for you, You are able to self pay for treatment. We will speak with your insurance company for you to verify your insurance plan benefits for treatment and care as a courtesy during the admissions process.
Please do not let financial concerns prevent you from getting the help your family needs. The Blanchard Institute is here to make the admissions process as simple as it can be.