Seeking Alcohol & Drug Rehab for Yourself in Charlotte, NC
Addiction Treatment & Mental Health Support in North Carolina
Stepping up to seek treatment can be scary and difficult, and our team here at The Blanchard Institute wants you to know that we understand. Admitting that you need help is one of the hardest parts of the process, and we get it. Though it can be challenging, in the end, it'll be extremely rewarding. You'll be embraced here by our medical team, counselors, and staff who are compassionate and supportive.
The Blanchard Institute provides an empathetic and accepting atmosphere where individuals who suffer from substance use disorder and/or co-occurring mental health disorders receive progressive and holistic treatment. Our program, cultivated through an evidence-based model, provides the treatment, education, and resources to individuals, families, and their communities that are necessary to reestablish a solid foundation to live fulfilling, healthy lives.
It's your move. Take the step.
Please contact The Blanchard Institute today. We'd love to give you more information about the treatment we offer and kickstart your road to recovery.
Signs You Need Alcohol or Drug Rehab
It can sometimes be difficult to differentiate between casual alcohol and drug use and a real problem. Though each case is unique and everyone won't experience the same warning signs, here are some of the most common indicators that you need addiction or dual diagnosis treatment:
We're Here When You Need Us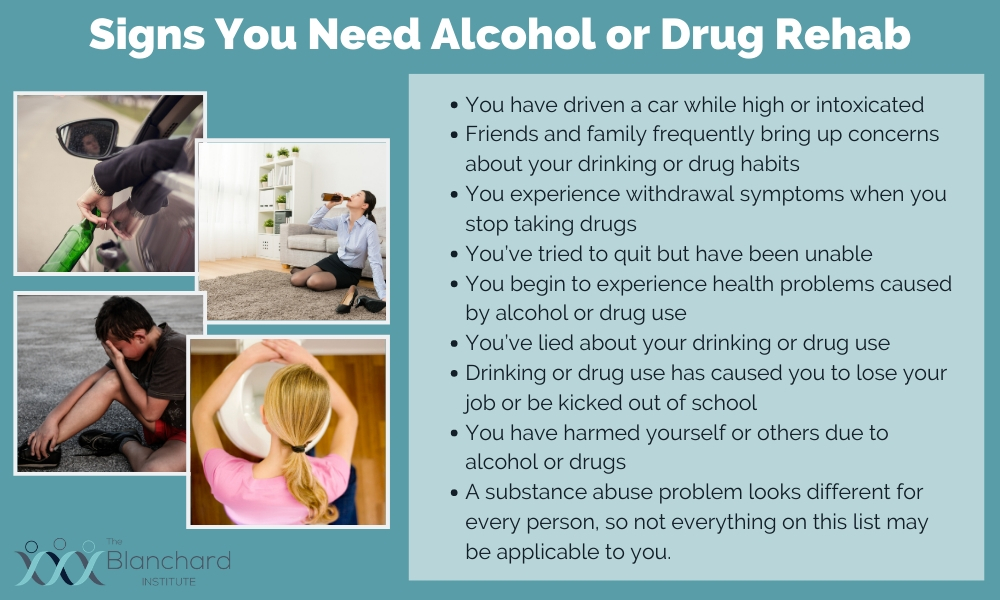 A substance use disorder problem looks different for every person, so not everything on this list may be applicable to you. If you've experienced anything listed above, though, it's time for you to seek help. Our team at The Blanchard Institute is eager to assist you back onto the path to recovery.
If you're looking for substance use treatment "near me," look no further than The Blanchard Institute.
Our Dual Diagnosis Approach
We proudly use a dual diagnosis approach that blends mental health care and substance abuse treatment. We firmly believe this is the best and most effective approach. When substance use disorder and a mental health disorder are both present, the best way to treat them is at the same time, under the same roof. Because every case is unique, no single treatment will be right for everyone. That's why we develop a customized treatment plan for each client. After the initial period of alcohol or drug rehab is complete, we'll put a plan for recovery in place moving forward.
When you're battling both addiction and mental illness, a supportive environment is crucial to getting on the path to recovery and staying there. At The Blanchard Institute, that's exactly what you'll receive.
For more information on our dual diagnosis approach and our substance use disorder treatment in Charlotte, NC and the surrounding areas, contact us today.
Learn More About Our Addiction Treatment in Charlotte, NC & the Surrounding Areas
Seeking help for yourself can be the most challenging but also the most rewarding part of your journey to sobriety. At the Blanchard Institute, our team is eager to assist you every step of the way and provide you with the support and treatment you need to return to a healthy life. We're also a Blue Cross Blue Shield Preferred Provider and a Magellan Preferred Provider for your convenience.
To learn more about our alcohol and drug addiction treatment in Charlotte and throughout North Carolina, contact The Blanchard Institute today.
We provide our services to those in Charlotte, Asheville, Pineville, Raleigh, Wilmington, and the surrounding areas in North Carolina.