As one of the only socially acceptable drugs, alcohol is a fixture in everyday life, from business lunches and office parties to sporting events and prime-time television. For those struggling with alcohol dependence and substance use disorder, it can be hard to avoid and even harder to quit once you realize you have a problem.
Alcoholism is a grave disease, but the condition is treatable if you have professional help and support. At The Blanchard Institute, we offer detox and ongoing treatment for alcoholism, as well as any co-occurring mental health disorders. In addition to Charlotte and Lake Norman, we also serve clients from all over the state of North Carolina. Our multi-faceted, holistic treatment approach addresses both the causes of addiction and any underlying mental health concerns such as depression or anxiety. We use a family-focused, evidence-based treatment regimen and we also provide support for loved ones affected by the addiction.To learn more about our alcohol rehab in North Carolina, please contact us online today.
WHAT DOES OUR DUAL DIAGNOSIS TREATMENT PROGRAM OFFER?
Our experienced, compassionate team uses a holistic approach to the treatment of addiction and alcoholism. That means we address the needs of the entire person–mind, body, and spirit–by using methods that are proven to work.
And while we don't expect our clients to treat themselves, we take their specific situations into account while administering their care plan.
Our substance use disorder and dual diagnosis disorder treatment institute offers the following outpatient programs:
We also have a family program that works to improve the client's relationships and the overall family system. This includes weekly, virtual events that provide free family support in North Carolina and beyond.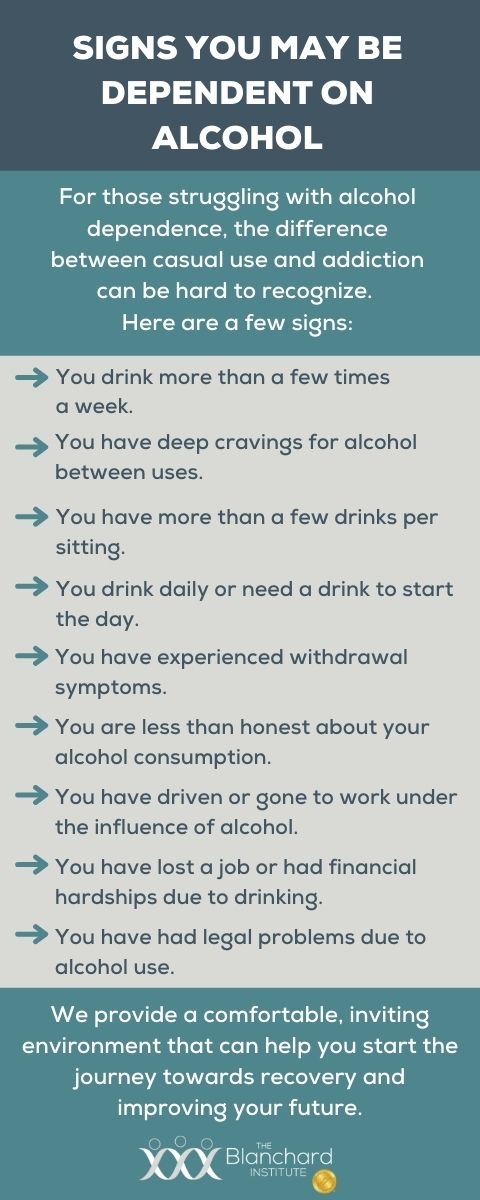 SIGNS YOU MAY BE DEPENDENT ON ALCOHOL
Having a few drinks with friends can be an enjoyable pastime, but alcohol has a sneaky way of becoming a significant impairment to everyday life.
Our alcohol rehab in North Carolina gives you the skills you need to deal with stress and anxiety in a healthy manner and to take steps towards improving your future.
ALCOHOL TREATMENT CENTER PROGRAMS
Within the parameters of these levels of care, we offer the following programs for treating alcohol dependence:
Group Counseling & Individual Sessions
Men's & Women's Programs
Outpatient Alcohol Detox
Trauma Therapy
Yoga
Eye Movement Desensitization and Reprocessing (EMDR)
Dialectical Behavioral Therapy (DBT)
Cognitive Behavioral Therapy (CBT)
Dual Diagnosis Program
Case Management
And more
These programs do more than help clients abstain from alcohol and other drugs. They also help clients feel like part of a community and prepare them for the inevitable challenges of everyday life.