Austin's House
by The Blanchard Institute
Austin's House is a gender-specific Recovery Residence Community serving men who are struggling with substance use and mental health disorders in the Charlotte metro area.
Our mission is to provide a safe, secure, and connected atmosphere where men can heal and recover. Through empathy and compassion, we are devoted to creating change in the lives of the residents of Austin's House so they may become who they were always meant to be.
The structure consists of each resident honoring their commitment to out-patient treatment, community support meetings, obtaining employment when appropriate, community volunteer opportunities, house activities and required meetings. To ensure accountability within the community, we provide drug and alcohol testing every 72 hours at minimum. In addition, we do require residents adhere to a curfew, household chore expectations, schedules, and medication compliance.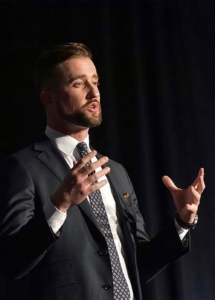 Who is Austin?
"A life is not important except in the impact it has on other lives."
– Jackie Robinson
In April 1999, our nation stood still as we watched the horrific school shooting at Columbine High School unfold before our eyes on national television. Austin Eubanks, a 17 year old Junior at Columbine, was one of the injured survivors on that tragic spring day. This traumatic experience triggered a decade-long battle with addiction that led Austin down a windy road of destruction, institutions, and incarceration.
At the age of 29, Austin experienced the miracles of healing and sobriety. His recovery and service became his life's purpose, devoting himself to bringing the mission of service, healing and recovery to others. Austin began sharing his personal story and struggles in hopes that it would help others cope with trauma and emotional pain. He became a nationally known speaker and authority on trauma, addiction, and gun control.
Austin and our founder, Ward Blanchard, became close friends through their own personal and professional journeys, often collaborating in their speaking and writing engagements. Austin envisioned a society that didn't seek to medicate their pain with substances and unhealthy coping behaviors, and he devoted his life to helping others so this dream could become a reality.
Sadly, Austin passed away in May 2019, but his legacy and service live on through his many works and treatment programs, like Austin's House, dedicated to his mission of helping others experience healing, recovery and fulfillment.